Pokémon Gold and Silver are the second generations of Pokémon games. These games introduced a ton of new content. Because of this, these games are often heralded as some of the best Pokémon adventures of all time!
New types, New Pokémon, new areas, and more are all found in the titular region of Johto. The gen two games were originally released between 1999 and 2001 across Japan, America, and Europe. Pokémon Gold and Silver sold 23.1 million copies worldwide!
Let's look at one of the greatest video game sequels ever made!
Plot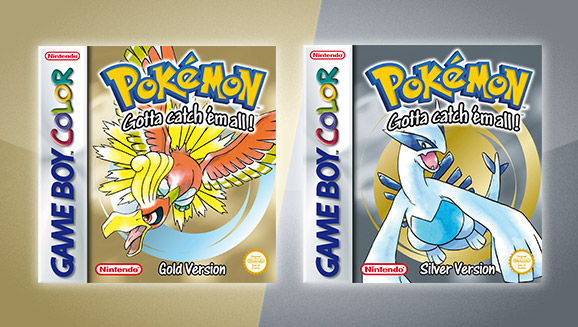 Pokémon Gold and Silver is a sequel to the original Pokémon Red, Blue, and Green games. After receiving their starter Pokémon, the player will make their way through the Johto region battling gym leaders and catching new Pokémon. Eventually, they will take on the Johto Elite Four.
Usually, this would be the end of the main game. However, these games are special because your adventure continues after this! After defeating the Johto Elite Four, the player returns to Kanto to play through Kanto! You can battle the original Kanto Gym leaders and Elite Four too!
Furthermore, after conquering both regions' top trainers, the protagonist of generation one, Red, is waiting for you as a super boss! Cramming so much content into these games is why they are so fondly remembered.
New Pokémon and Version Exclusives
Pokémon Gold and Silver introduced 100 new Pokémon. Additionally, most of the original 151 Pokémon are available to find in the game.
As usual, the games feature exclusive Pokémon for each title. These are as follows.
Gold
Silver
Mankey
Primeape
Growlithe
Arcanine
Spinarak
Ariados
Gligar
Teddiursa (Exclusive to Silver in KR and JP)
Ursaring (Exclusive to Silver in KR and JP)
Mantine
Vulpix
Ninetales
Meowth
Persian
Ledyba
Ledian
Delibird
Skarmory
Phanpy (Exclusive to Gold in KR and JP)
Donphan (Exclusive to Gold in KR and JP)
New Features
Several new features found their way into generation two. Here's a breakdown of some of the more important ones.
Apricorns
Alongside Poké, Great, and Ultra balls, more specialized balls were introduced in gen 2. Players can collect Apricorns from special plants throughout Johto. Afterward, take these to Kurt in Azalea Town, and he will fashion these into different balls! Some of these new balls include Lure balls, Heavy balls, and Friend balls.
Pokégear
The Pokégear is a device received at the beginning of the game. Players can check their map through this menu tab, make phone calls, and listen to the radio!
Gameplay
The biggest gameplay alteration in generation two is the separation of the Special stat into Special Attack and Special Defense. In gen 1, these stats were combined. Because of this, Pokémon with high Special stats (like Mewtwo and Alakazam) were both incredibly strong offensively and defensively.
Pokémon can also hold items now to boost their stats by removing status inflictions (such as berries).
Breeding is another new feature that allows for Eggs to be hatched from the Pokémon Day Care Center.
Finally, Shiny Pokémon debuted in gen 2 with the memorable Red Gyarados.
Day & Night
The Day and Night cycle is only capable, thanks to the unique clock functionality of these games. At the start of the game, players will be asked to set their date and time. As you play through the game, the outside will become darker in the evenings and brighter in the day!
While this is aesthetically pleasing, it also functions as a core game mechanic! Certain Pokémon will only evolve during the day or the night (such as the cat Pokémon Eevee into Umbreon or Espeon).
New Types
Two new types were introduced in generation two, Dark and Steel. These were meant to alleviate the oppressive power of the gen 1 Psychic-type. New additions included such Pokémon as Sneasel, Skarmory, and the dog Pokémon Houndoom.
Additionally, certain Pokémon had their types updated (such as Magnemite becoming a Steel/Electric-type).
Subsequent Rereleases
As Game Freak has been known to do over the years, Pokémon Gold and Silver have seen several ports and updates.
Pokémon Crystal
While not a direct port, Pokémon Crystal is an updated version of Pokémon Gold and Silver. The story is mostly the same, with more emphasis on Suicune. Pokémon Crystal was the first Pokémon game to introduce a female protagonist. Furthermore, it was the first title to include animated sprites as well.
Heart Gold and Soul Silver
Released for the Nintendo DS in 2009, HeartGold and SoulSilver are full remakes of the original gen 2 games. These two titles feature upgraded graphics, a full national dex, and tons more content! Additionally, buyers also received the Pokéwalker!
Virtual Console
The 3DS virtual console now has access to Pokémon generations one and two. These are straight ports of the original GAME BOY titles, and almost nothing has been changed. However, it is possible to acquire the GS Ball and encounter Celebi in the Ilex Forest!
FAQs
Will They Remake Pokemon Silver and Gold?
Pokémon Silver and Gold received their remake in the form of HeartGold and SoulSilver in 2009 for the Nintendo DS.
Is Pokemon Gold and Silver a Sequel?
Pokémon Gold and Silver are direct sequels to the generation one games. Players will encounter the Team Rocket ruins foiled by Red and encounter the titular protagonist at Mt. Silver.
What Pokemon Gen Is Gold and Silver?
Pokémon Gold and Silver are the second generation of mainline Pokémon games.
Why Did Pokémon Gold and Silver Contain Two Full Regions?
Originally, the developers thought Pokémon Gold and Silver would be the last games in the series, so they included two full regions to make them as memorable as possible!
How to Find a Suicune in Pokemon Gold and Silver?
Travel to the bottom of the Burnt Tower and encounter the three legendary beasts. From then onwards, you will have a chance to encounter Suicune, Raikou, and Entei roaming throughout Johto.
Is It Possible to Get All Pokemon in Crystal in the VC on 3DS?
It is not possible to get all Pokémon in Crystal in the VC on 3DS without trading, so you will require two consoles to complete the Pokédex.
Can I Play Pokémon Gold/Silver/Crystal on My iPhone or Mac?
To play Pokémon Gold/Silver/Crystal on iPhone or Mac, you will need an emulator and ROM. This can be found here.
How to Play Pokemon Silver on an iPhone?
To play Pokémon Silver on an iPhone, you will need an emulator and a ROM. These can be found here for mobile devices.
How to Get Dratini in Pokemon Soulsilver?
You can obtain four ways in Pokémon SoulSilver.

1. Dragon's Den in Blackthorn City. Master's Quiz gift.
2. Surfing in Dragon's Den.
3. Buying a Dratini in Goldenrod City.
4. Catching a Dratini in the Safari Zone.

Are Pokemon Gold, Silver, and Crystal the Same?
Pokémon Gold and Silver are the same game with version exclusives. However, Pokémon Crystal has a slightly different story than Gold and Silver.
In Pokemon, Which Is Better – Soul Silver or Heart Gold?
Depending on whether you prefer Lugia or Ho-oh will depend on which game of Heart Gold or Soul Silver you consider better.
How Do You Get to the Kanto Region in Pokemon Gold?
After beating the Johto Elite Four, return to Professor Elm's Lab. He will give you an S.S Ticket so you can board the ship to Kanto from Olivine City's port.
What Are the Legendary Pokémon in Gold?
The legendary Pokémon available in Pokémon Gold are as follows.
1. Suicune.
2. Entei.
3. Raikou.
4. Ho-Oh (lv.40).
5. Lugia (lv.70).

A gaming lover from a very young age, Justin has always had a keen eye for building his own computers or racing sims so that he can race his identical twin (and usually lose at the actual race).
Justin in the founder of BeStreamer and sees it as a free resource to help all gamers around the world