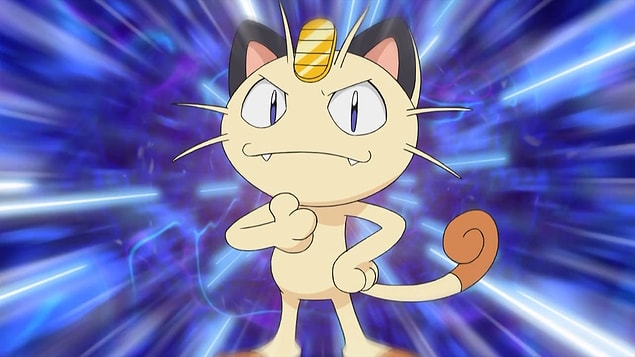 Cat Pokémon are everywhere in the Pokémon Universe! With so many feline creatures to keep track of, it can be difficult for the cat lovers of the world to find the best cat Pokémon for them. Luckily, we are here today with a comprehensive list of all cat Pokémon across the eight mainline generations of Pokémon games.
While Pokémon Scarlet and Violet are on the horizon and Sprigatito will soon join the lineup of cat Pokémon, because it has not officially been added to the Pokédex yet, we won't be discussing it here.
Despite this, there is still a hefty handful of cat Pokémon to get through. However, whether you prefer Ice cat Pokémon, Dark-type Cat Pokémon, or stumbled across this list by searching "cat Pokémon purple" we've got you covered!
How Are Cat Pokémon Categorized?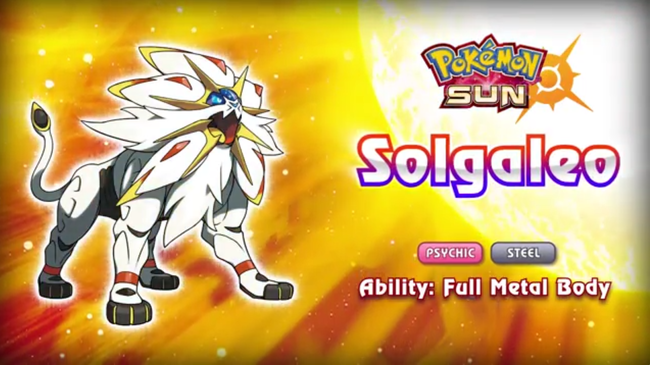 We'll be listing cat Pokémon from here on out based on the Generation they made their first appearance. While most of these cat Pokémon can be found, caught, and traded in later games, we'll be ordering these feline fellows chronologically. Check out this table to see which games correspond to which generation:
| | | | | | | | | | |
| --- | --- | --- | --- | --- | --- | --- | --- | --- | --- |
| | Gen I | Gen 2 | Gen 3 | Gen 4 | Gen 5 | Gen 6 | Gen 7 | Gen 8 | Gen 9 |
| Game | Red, Blue (Green), Yellow (R/B/Y) | Gold, Silver, Crystal (G/S/C) | Ruby, Sapphire, Emerald, FireRed, LeafGreen (R/S/E/FR/LG) | Diamond, Pearl, Platinum, HeartGold, SoulSilver (D/P/PL/HG/SS) | Black, White, Black 2, White 2 (B/W/B2/W2) | X, Y, Omega Ruby, Alpha Sapphire (X/Y/OR/AS) | Sun, Moon, Ultra Sun, Ultra Moon, Let's Go Pikachu, Let's Go Eevee (Su/M/US/UM/LGP/LGE) | Sword, Shield, Brilliant Diamond, Shining Pearl, Legends Arceus (Sw/Sh/BD/SP/LA) | Scarlet, Violet (Sc/V) |
How Many Cat Pokemon Are There?
There are 38 cat Pokémon across the eight mainline generations of Pokémon games. These Pokémon vary in their likeness to cats but, whether they be leopards, lions, or docile house pets, all the Pokémon here can be considered part of the feline family!
To help distinguish each cat Pokémon, we'll also be including their capture methods. To clarify, check out the information below:
Wild: This Pokémon is obtainable in the wild through ordinary catching means.
Evolve: You must evolve another Pokémon through level up or other requirements (Friendship, Elemental Stones, etc.)
Overworld: These are Pokémon found in the game's overworld and can usually only be caught once (this includes legendary Pokémon but also static encounters like Snorlax or Sudowoodo).
Event: These are Pokémon only obtainable through official Nintendo sanctioned events. 
In-game Trade: Pokémon that cannot be caught and are only available through in-game trades with NPCs.
Gift: Not to be confused with "Mystery Gift" Pokémon (which would fall under the "Event" classification), Gift Pokémon are given to you by NPCs in the game.
Starter: These are Starter Pokémon or their subsequent evolutions.
Other: These are Pokémon that do not fit into any of the previous classifications.
We will omit "Trade" and "Breed" classifications as you can obtain any Pokémon through a trade with a real-life player.
Similarly, should you have access to the final form of a Pokémon, you can always breed them to get the first and second stages.
Full List of Cat Pokémon in the Pokédex
Now, without further ado, let's take a look at every cat Pokémon on the Pokédex!
Meowth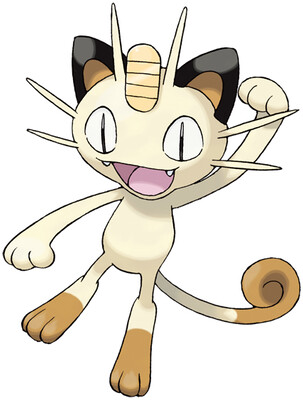 Number: #052
Species: "Scratch Cat Pokémon"
Type: Normal
Generation: I
How to Catch: Wild
What is there to say about Meowth? Meowth is the mascot of Team Rocket's dynamic duo, Jessie and James. This cat Pokémon won the hearts of fans across the globe thanks to its wise-guy attitude and unforgettable catchphrase ("Meowth, that's right!). What makes Meowth so unique in the Pokémon anime is that it is one of few Pokémon that has mastered human language! For instance, other Pokémon (like Slowking) rely on telepathy to convey their thoughts. However, only Meowth can tease you verbally!
Unfortunately, Meowth does not receive the same adoration in-game. Meowth is as forgettable as your average Caterpie, with only the unique move "Pay Day" keeping it from falling into obscurity. However, Game Freak knows a mascot when they see one. As a result of Meowth's popularity, it returned with an Alolan, Dynamax, and Galarian form in subsequent generations.
Persian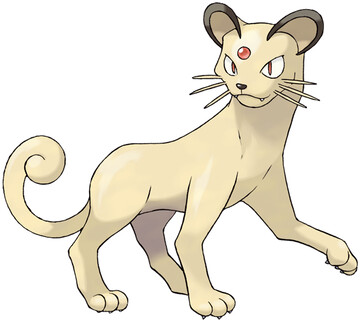 Number: #053
Species: "Classy Cat Pokémon"
Type: Normal
Generation: I
How to Catch: Wild, Evolve Meowth
Persian is best remembered for being the elegant pet of Team Rocket's boss, Giovanni. Frequently in the Pokémon anime, this cat Pokémon could be seen petted by an out-of-camera shot Giovanni (which makes a lot of sense considering Persian is classified as the "Classy Cat Pokémon").
As a Normal-type, Persian can compete against every other type (other than Fighting) with varying levels of success. However, it also suffers no favorable matchups due to the lack of any super-effective damage multipliers. Persian did receive an Alolan form, but… the less said, the better.
Alolan Persian's face is nothing but nightmare fuel.
Eevee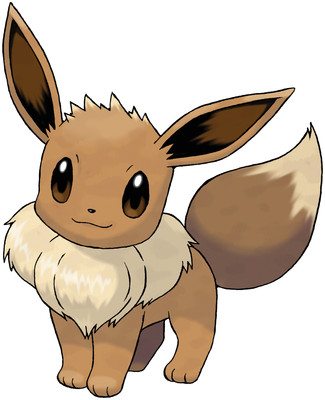 Number: #133
Species: "Evolution Pokémon"
Type: Normal
Generation: I
How to Catch: Gift
Eevee is a strange mix between cat and dog, but it seems like this ambiguity was intentional on behalf of the developers. However, Eevee and its subsequent "Eeveelutions" resemble typical felines more than canines. This means that we will include them here.
Eevee, on its own, is nothing to write home about. Aside from a brief stint in the spotlight as a Partner Pokémon in the Let's Go titles (alongside a unique Dynamax form in Sword and Shield), you should evolve Eevee as soon as possible! Due to Eevee's classification as the "Evolution Pokémon," keeping your Eevee in its base form is akin to animal cruelty!
Vaporeon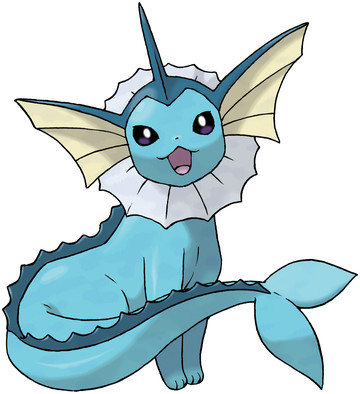 Number: #134
Species: "Bubble Jet Pokémon"
Type: Water
Generation: I
How to Catch: Evolve Eevee (Water Stone)
Vaporeon is by no means the greatest water-type to ever exist. However, this cat Pokémon's bulk and defensive capabilities are nothing to scoff at. With incredibly high HP and defense stats, alongside access to moves like Acid Armor, it will take nothing short of a thunderstorm to keep this cat Pokémon from growling.
Vaporeon sees mixed levels of play at a competitive level but has never risen to the top-tier. Still, Vaporeon is an excellent addition to any generation I playthrough for those needing a Surf-user!
Jolteon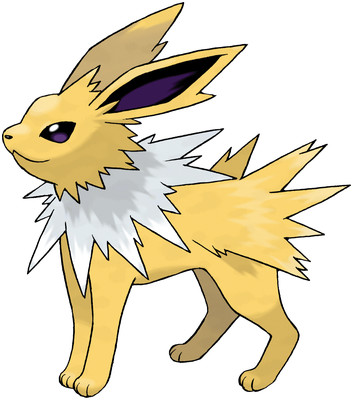 Number: #135
Species: "Lightning Pokémon"
Type: Electric
Generation: I
How to Catch: Evolve Eevee (Thunder Stone)
Jolteon was always the coolest of the original three "Eeveelutions!" This cat Pokémon's design encapsulates 90s culture with edgy spikes and a confident smirk! However, a high Speed stat is the only thing in Jolteon's favor as it sees very little competitive play.
Volt Absorb can be helpful in certain matchups where Jolteon can switch in to absorb an electric attack. However, it won't be too long before it gets ground out by a Marowak!
Flareon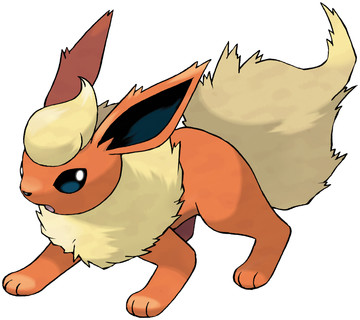 Number: #136
Species: "Flame Pokémon"
Type: Fire
Generation: I
How to Catch: Evolve Eevee (Fire Stone)
Flareon is everyone's least favorite "Eeveelution." We feel relatively comfortable stating this and are happy to confront the three Flareon Stans already prepping their scathing retort. Flareon has never seen competitive viability due to its poor base stats, shallow move pool, and average typing.
However, it seems Flareon is the kind of Pokémon that holds grudges, and we must look toward the iconic "Twitch Plays Pokémon" stream to see why. For those unaware, this live-streamed event involved anonymous chat members controlling the actions of a Pokémon Red playthrough. Partway through the game, a water-type was needed to learn Surf to progress. However, after withdrawing Eevee, it was accidentally evolved into a Flareon! This resulted in Flareon becoming a "False Prophet" for the remainder of the stream. Perhaps, Flareon was merely paying us back for years of mistreatment.
Mewtwo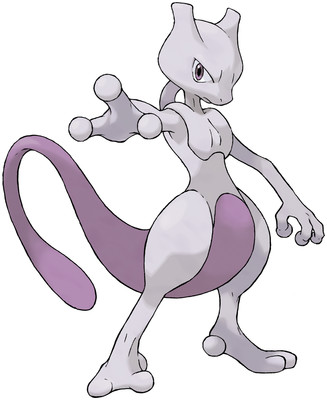 Number: #150
Species: "Genetic Pokémon"
Type: Psychic
Generation: I
How to Catch: Overworld
Mewtwo is one of the most recognizable Pokémon and stands proudly alongside Charizard and Pikachu as a mascot of the franchise. Mewtwo is a Legendary cat Pokémon and has been in Uber-tier since the dawn of competitive play. Mewtwo's powerful base stats and large move pool make it an oppressive threat in any matchup. Mewtwo received two Mega forms in X and Y, which both saw varying levels of competitive play.
Furthermore, we mustn't forget about Mewtwo's role in the anime. Mewtwo was the primary antagonist in the first Pokémon movie, where it learned the value of life. Mewtwo then reprised its role as a star in the subsequent Mewtwo Strikes Back.
Mew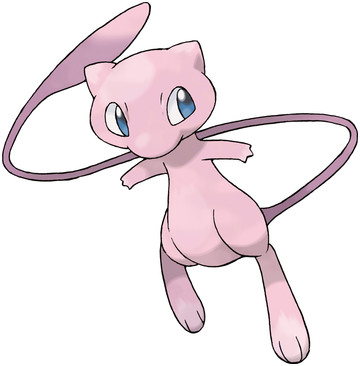 Number: #151
Species: "New Species Pokémon"
Type: Normal
Generation: I
How to Catch: Event
Like its genetically engineered counterpart, Mew is an Uber-tier Pokémon capable of learning almost every move in the game! Moreover, Mew has incredible base stats making it an easy choice for competitive play.
Through glitching, players can obtain Mew in the original Red, Blue, and Yellow games. However, the only way to officially receive a Mew is through officially Nintendo sanctioned Events. As a result, Mew has become a highly sought after and rare cat Pokémon. Those who watched the first Pokémon movie will already know how elusive this Legendary cat Pokémon can be, and this is faithfully replicated in the mainline games.
Much to our dismay…
Espeon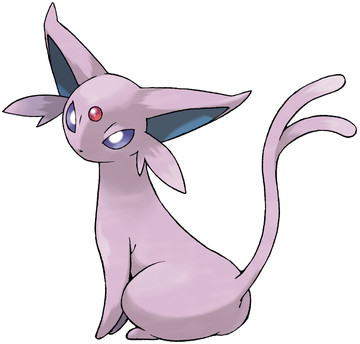 Number: #196
Species: "Sun Pokémon"
Type: Psychic
Generation: II
How to Catch: Evolve Eevee (Level Up w/ High Friendship + Daytime)
Espeon is the first of the new "Eeveelution" cat Pokémon introduced in generation 2. Along with its counterpart, Umbreon, these two signified the limitless potential of our favorite evolutionary cat Pokémon, Eevee. Espeon has modest stats and an above-average move pool, but it performs the best in story playthroughs rather than competitive play. When battling Red atop Mt. Silver, he too wields a powerful Espeon in combat.
Pokémon Colosseum, a spinoff departure from the mainline games, starts the player with an Espeon and an Umbreon. These two cat Pokémon go paw in paw and complement each other's playstyles expertly!
Umbreon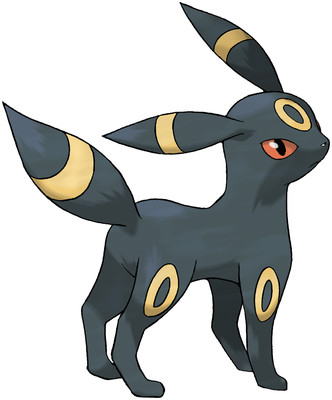 Number: #197
Species: "Moonlight Pokémon"
Type: Dark
Generation: II
How to Catch: Evolve Eevee (Level Up w/ High Friendship + Night-time)
Umbreon is, arguably, the only "Eeveelution" to be competitively viable. Umbreon is by no means a top-tier cat Pokémon and excels most as a defensive wall. With supportive moves like Yawn, Snarl, and Helping Hand, Umbreon becomes a strong debuffer that can keep itself alive with Moonlight.
Foul Play is Umbreon's primary damage-dealing source but should not be relied upon to finish off opponents. Because of this, pairing Umbreon with a strong damage dealer (like Espeon) allows it to shine through. Pokemon Colosseum grasped this concept very well!
Raikou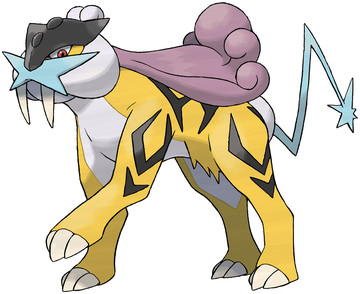 Number: #243
Species: "Thunder Pokémon"
Type: Electric
Generation: II
How to Catch: Overworld
Raikou is one of the Legendary Beasts that draw inspiration from dog and cat Pokémon. Legends tell of the three generation one "Eeveelutions" perishing in the Burned Tower, only to be revived by Ho-oh as the Legendary Beasts. As a result, Raikou has the appearance of a sabretooth tiger and is one cat Pokémon you don't want to mess with.
Despite such ominous lore surrounding these cat Pokémon, none see much tournament viability, least of all Raikou. Raikou's stats are serviceable, but it fails to compete against other stronger and faster electric types.
Entei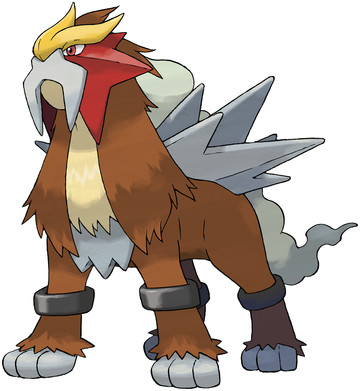 Number: #244
Species: "Volcano Pokémon"
Type: Fire
Generation: II
How to Catch: Overworld
Entei is the Volcano cat Pokémon with features resembling a regal lion. This cat Pokémon is a roaming encounter that can only be captured once per game like his Legendary Beast peers. However, Entei pales in comparison to later-generation Fire-types. Primal Groudon, for instance, dwarfs Entei in almost every conceivable way.
Entei did receive some love as the primary antagonist of Pokémon Movie 3, where he kidnapped a young child and masqueraded as her father.
As if Entei didn't already have enough bad press surrounding its name!
Suicune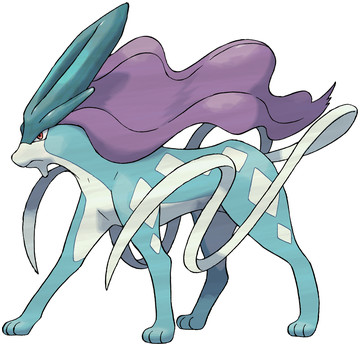 Number: #245
Species: "Aurora Pokémon"
Type: Water
Generation: II
How to Catch: Overworld
Suicune is a cat Pokémon most similar to a leopard and fairs decently in early generation competitive play. Subsequent games have introduced too much competition for Suicune to compete.
Suicune does a little better in Brilliant Diamond and Shining Pearl's metagame. No new Pokémon past generation four allow it to shine.
Skitty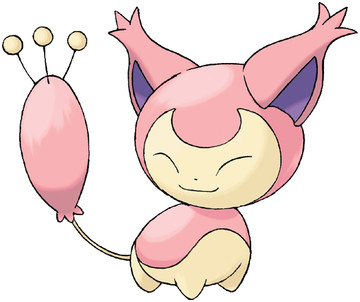 Number: #300
Species: "Kitten Pokémon"
Type: Normal
Generation: III
How to Catch: Wild
Skitty is a cat Pokémon based on an infantile kitten and is the first of a two-stage evolutionary line. Because of this, it is more of a collectible pet than a viable battler.
Additionally, Skitty is very rare in the original Ruby, Sapphire, and Emerald games. This cat Pokémon has a low percentage chance of being found when using Rock Smash, meaning you will have to break a lot of boulders to find one!
Delcatty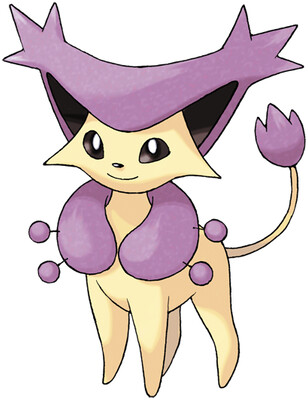 Number: #301
Species: "Prim Pokémon"
Type: Normal
Generation: III
How to Catch: Evolve Skitty (Moon Stone)
Delcatty is the final evolution cat Pokémon of the Skitty line. It may seem elegant in its design, but this is nothing but a mask to hide Delcatty's abysmal stats. Because of this, Delcatty and Skitty are often forgotten about when it comes time to recite one's generation three Pokédex.
However, Delcatty did prove to be a formidable opponent in Pokemon XD: Gale of Darkness. Here, its Cute Charm ability shines through as it can cripple an all-male team.
Zangoose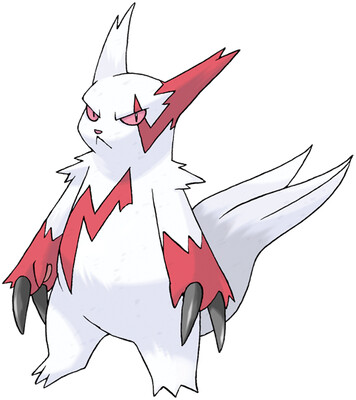 Number: #335
Species: "Cat Ferret Pokémon"
Type: Normal
Generation: III
How to Catch: Wild
Generation three really did love its Normal-type cat Pokémon! That is to say, generation three loved to tease us with excellent designs but terrible competitive viability! Zangoose looks like it could rip apart any enemy standing in its way, but it becomes nothing more than a soft and docile cat Pokémon on the battlefield. Because of this, Zangoose has faded into relative obscurity.
On the other hand, a select few out there remember Zangoose, thanks to its role in Pokemon XD: Gale of Darkness. Zook's trusty Zangoose gave many of us a run for our money due to its devastating power at that point in the game.
Absol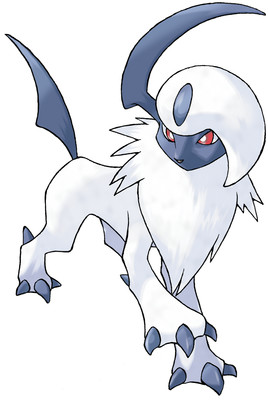 Number: #359
Species: "Disaster Pokémon"
Type: Dark
Generation: III
How to Catch: Wild
Absol is known as the "Disaster Pokémon." This means that wherever this cat Pokémon is said to appear, chaos and destruction are likely to follow soon after. However, in actuality, Absol tend to live in mountainous regions away from civilization and can detect incoming disasters. Then, once it has confirmed impending disaster, it quickly rushes to warn nearby communities. Because of this, Absol is often blamed for these disasters (as seen in the feature film "Pokémon: Jirachi—Wish Maker").
This cat Pokémon fails to offer much utility due to its lackluster speed and paper-thin defenses. Absol does have immunity to Psychic, but this is not enough to make Absol viable. Because of this, it sits firmly in PU-tier (a joke tier meant to convey Pokémon so bad they stink). Furthermore, Mega Absol doesn't fair any more favorably. While Mega Absol receives a massive buff to its offensive capabilities (and Magic Bounce to ward off any Stealth Rocks or status inflictions), it is still the same glass cannon. Because of this, It struggles to stay alive long enough to utilize its newfound power.
Shinx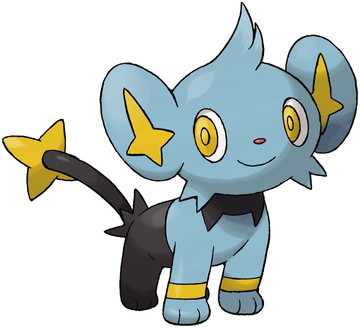 Number: #403
Species: "Flash Pokémon"
Type: Electric
Generation: IV
How to Catch: Wild
Shinx, as its namesake suggests, is based on the lynx and is a great cat Pokémon to pick up for anyone's Sinnoh adventure!
While Shinx fails to make much of a name for itself in its base form, it can still be helpful in other ways. As an adorable cat Pokémon pet, for instance!
Luxio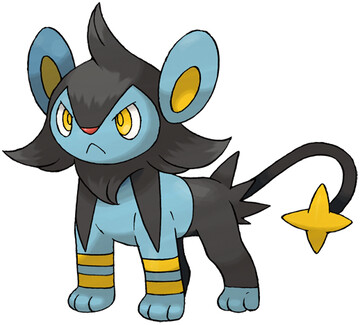 Number: #403
Species: "Spark Pokémon"
Type: Electric
Generation: IV
How to Catch: Wild, Evolve Shinx
Luxio trades in its adorable persona as a cute cat Pokémon and becomes a lot more intimidating. While Rivalry can be helpful in certain situations against different gender Pokémon, Intimidate is one of the most powerful abilities in the entire game. Because of this, it is recommended to take the extra time to pick up a Luxio with Intimidate.
Luxio is a middle-stage Pokémon. It will likely only see play in NFE ("Not Fully Evolved") tournaments. However, it is still a cool-looking cat Pokémon that will make a great addition to your team!
Luxray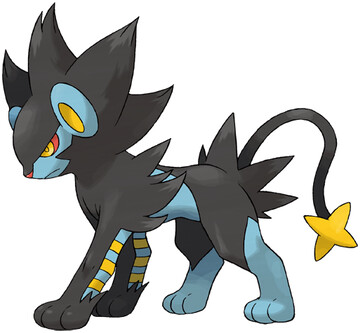 Number: #404
Species: "Gleam Eyes Pokémon"
Type: Electric
Generation: IV
How to Catch: Evolve Luxio
Luxray is a staple of many Diamond, Pearl, and Platinum playthroughs but fails to see much play at a competitive level. While its design is incredible and its likeness to a lion is very intimidating, this is a cat Pokémon best saved for a casual adventure.
However, Luxray isn't entirely useless and makes for a great early Electric-type for your team. It may look cool and do wonders for your casual run, but this cat Pokémon will fall off as you progress through the game and is utterly unviable in competitive play.
Glameow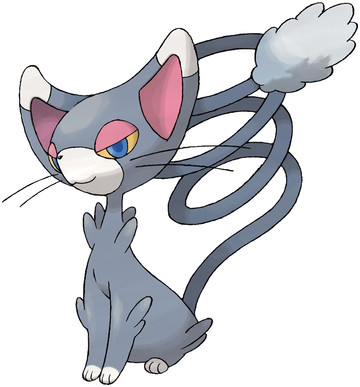 Number: #431
Species: "Catty Pokémon"
Type: Normal
Generation: IV
How to Catch: Wild
How much more of a cat Pokémon can you ask for when presented with the literal "Catty Pokémon?!" Whether you plan to face paralysis or confusion-heavy opponents, opting for either of Glameow's Limber of Own Tempo abilities is a viable option.
However, because Glameow is the first-stage evolution, its only opportunity to shine is in NFE tournaments. For instance, the Little Cup allows Glameow to show off its cat Pokémon-like reflexes!
Purugly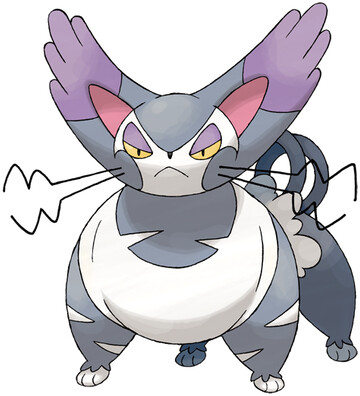 Number: #431
Species: "Tiger Cat Pokémon"
Type: Normal
Generation: IV
How to Catch: Evolve Glameow
Glameow, the years have not been kind! Known as the "Tiger Cat Pokémon," Purugly's Thick Fat ability reduces incoming damage to Fire and Ice-type attacks, while its Own Tempo ability prevents it from becoming confused. On the other hand, Defiant is Purugly's Hidden Ability, which raises its Attack stat by two stages when hit by a stat-lowering move.
Due to its weak base stats and vulnerable typing, Purugly doesn't see much play at the competitive level. However, all Pokémon veterans will remember the horror of facing Mars' Purugly at the Valley Windworks!
Leafeon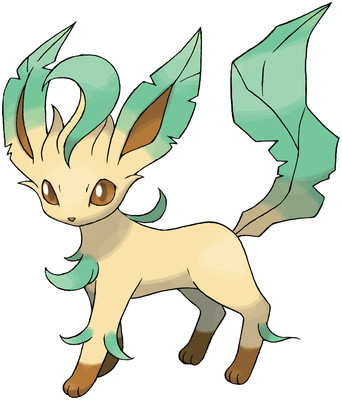 Number: #470
Species: "Verdant Pokémon"
Type: Grass
Generation: IV
How to Catch: Evolve Eevee (Level-up near a Mossy Rock)
Leafeon is a mystical-looking cat Pokémon at one with nature. While Leafeon requires a unique method of evolution in earlier games, a simple Leaf Stone used on your Eevee will now allow you to obtain this elegant cat Pokémon.
However, you may want to save that Leaf Stone and your Eevee for something else because Leafeon is considered sub-par at best. Leafeon may look battle-worn due to the cuts on its many appendages, but, in actuality, one small fire is enough to render this cat Pokémon immobile!
Glaceon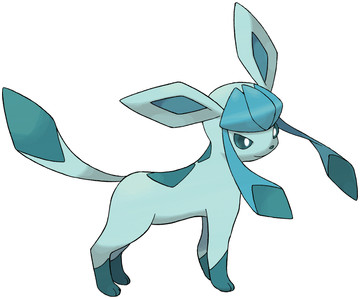 Number: #470
Species: "Fresh Snow Pokémon"
Type: Ice
Generation: IV
How to Catch: Evolve Eevee (Level-up near an Icy Rock)
Similar to all "Eeveelutions" that came before it, Glaceon is an afterthought for the competitive Pokémon scene. Ice-types, in general, suffer from many weaknesses, but when you add to this paper-thin defenses and low speed like that of Glaceon, it becomes a chore to make this cat Pokémon viable.
However, like other "Eeveelutions," Glaceon's design is top-notch and makes a great pet cat Pokémon for your collection. However, it won't be winning you a tournament any time soon. While you once had to level up your Eevee near an Icy Rock to obtain Glaceon, you can now use an ice stone to quicken the completion of your Pokédex.
Purrloin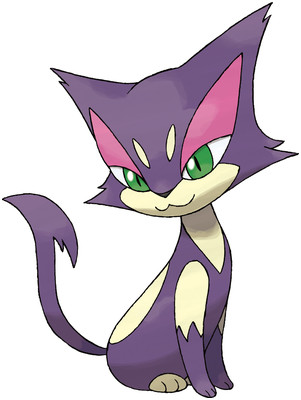 Number: #509
Species: "Devious Pokémon"
Type: Dark
Generation: V
How to Catch: Wild
Purrloin is a basic stage Pokémon found on the early routes of generation five. Because of this, it and its evolution are fragile even by casual standards.
After you catch a Purrloin, stick it in the first box, and then continue your journey.
Liepard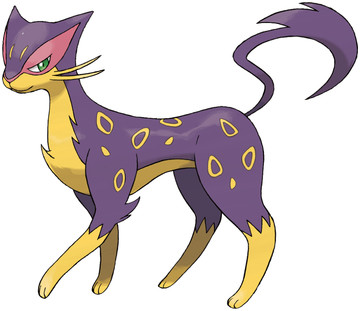 Number: #510
Species: "Cruel Pokémon"
Type: Dark
Generation: V
How to Catch: Wild, Evolve Purrloin
Liepard's confident grin is perhaps the only redeeming quality it has. While this leopard-like cat Pokémon may seem cocky enough to topple any foe, it struggles to make a name for itself in normal playthroughs and competitive battling.
Pure Dark-type Pokémon have many weaknesses and need either strong base stats or unique abilities to make them viable. Because of this, Liepard and its all-around lackluster kit make it forgettable.
Litleo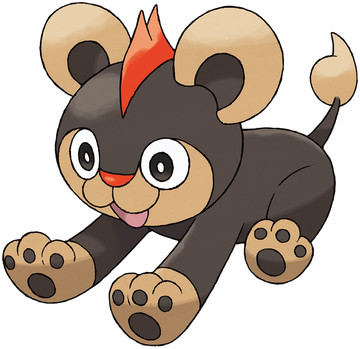 Number: #667
Species: "Lion Cub Pokémon"
Type: Fire/Normal
Generation: VI
How to Catch: Wild, Gift (Poké Pelago)
Litleo is an adorable cat Pokémon that can be a cute pet and a fierce competitor in battle (at least, after it evolves). As a basic-stage Pokémon, Litleo doesn't see any play in competitive battling (other than niche Little Cup appearances). While Litleo's standard abilities have occasional uses, Moxie is great for snowballing on unsuspecting opponents!
Furthermore, Litleo's Normal typing gives it access to STAB normal moves such as Return or Frustration! While it picks up a weakness to Fighting along with this addition, it also gains immunity to Ghost moves!
Pyroar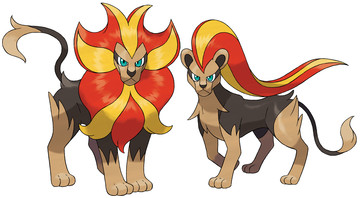 Number: #668
Species: "Royal Pokémon"
Type: Fire/Normal
Generation: V
How to Catch: Wild, Evolve Litleo
While Pyroar may seem threatening at first glance, this cat Pokémon is nothing but a docile house pet! Pyroar's low base stats and shallow move pool make it an afterthought for competitive battling. However, Pyroar does gain access to powerful moves like Flamethrower (level 38) and Crunch (level 42) at early levels, making it easy for Pyroar to dispatch early-game enemies at least.
While Pyroar's competitive viability is less than impressive, its design resembling a noble lion is wonderfully illustrated. Additionally, this species of cat Pokémon is 87.5% female. This makes perfect sense when we look at real-life lion prides as it is usually the females that are found out hunting in the wild while the men wait for food to be brought to them!
Espurr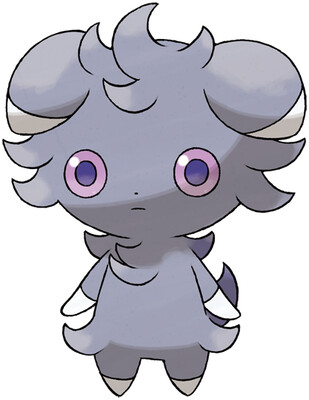 Number: #677
Species: "Restraint Pokémon"
Type: Dark
Generation: VI
How to Catch: Wild
You see… that's where it all began.
Those eyes… those damn soul-piercing, nightmare-inducing, sleep-paralysis invoking eyes!
Espurr is a Psychic cat Pokémon that seems harmless enough. However, according to the Pokémon Sword and Shield Pokédex, it has "enough psychic power… to send a wrestler flying" and "behind its blank star is an intense struggle to contain its devastating power."
Espurr is reasonably harmless on the battlefield despite such harrowing descriptions, with strong matchups against Fighting-type Pokémon.
Meowstic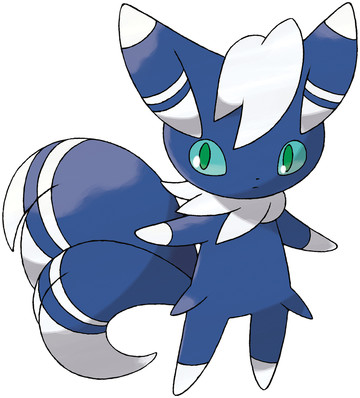 Number: #678
Species: "Constraint Pokémon"
Type: Dark
Generation: VI
How to Catch: Wild, Evolve Espurr
Meowstic is the evolution of Espurr and a fancy cat Pokémon with different forms depending on its gender. Thanks to Meowstic's pure Psychic-typing, it favors well against Fighting types but struggles to fend off pesky Bug, Ghost, and Dark-types.
Due to Meowstic's low base stats and mediocre abilities, it struggles to find relevance in competitive play. However, Pokémon with different designs based on gender always make for thrilling shiny hunts depending on the sex you are missing!
Sylveon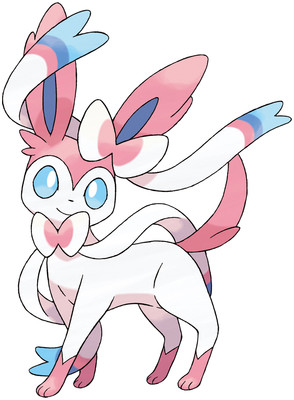 Number: #700
Species: "Intertwining Pokémon"
Type: Fairy
Generation: VI
How to Catch: Evolve Eevee (Partner Eevee + Friendship / Level-up while knowing a Fairy move).
Sylveon is the final "Eeveelution" we have yet to receive but will always be a shining beacon of hope that we will eventually see more! Due to the immense power of the Fairy-type, Sylveon is great for any casual playthrough. Because of Sylveon's high Special Attack and Special Defense stats and immunity to Dragon-type moves, Sylveon can tank hits and dish out heavy hits with ease!
Like Umbreon, Sylveon is chosen as a niche pick for competitive play. However, these instances are few and far between.
Litten
Number: #725
Species: "Fire Cat Pokémon"
Type: Fire
Generation: VII
How to Catch: Starter
Litten is one of the three starter Pokémon of Sun and Moon. At first, the "Fire Cat Pokémon" is nothing more than a typical black cat, but its striped bodily features and prominent red whiskers let you know precisely how fiery it can be!
While Litten is incredibly adorable, you'll want to evolve your starter as soon as possible to get the best results. However, if you are content with your cute cat Pokémon, enjoy challenge playthroughs, and don't want to see it become bipedal, make sure to halt its evolution or give it an Everstone!
Torracat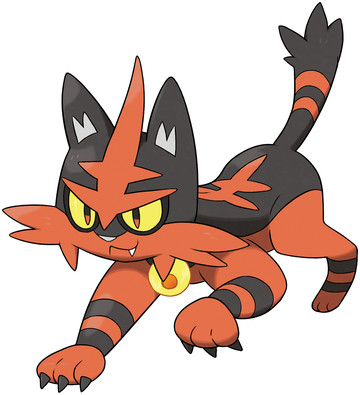 Number: #726
Species: "Fire Cat Pokémon"
Type: Fire
Generation: VII
How to Catch: Evolve Litten
Second-stage starter Pokémon are some of the most forgettable creatures out there. While everyone can remember a Starter Pokémon and third-stage Starter evolutions remain prominent in competitive battling to this day, second-stage Pokémon only exist to halt progress.
Torracat's design is decent, and it becomes more confident upon entering its teenage years. Moreover, the bell around its neck lets you know that this is a true-blue (or, should we say, "true-red") cat Pokémon. Fans of quadrupedal Starter Pokémon, enjoy your time with Torracat!
Incineroar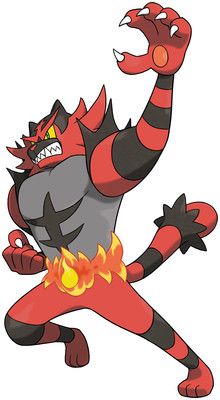 Number: #727
Species: "Heel Pokémon"
Type: Fire/Dark
Generation: VII
How to Catch: Evolve Torracat
Inspired by the pro-wrestling scene, Incineroar is known as the "Heel Pokémon" for a reason! Incineroar is a terror of high-level competitive play due to its immense power and annoying move pool. Typically, Incineroar will rock the powerful "Intimidate" ability to cripple physically attacking enemies. Add to this moves such as Fake Out (to inflict flinches) and Parting Shot (to lower an enemy's stats and cycle Intimidate), and you have a very naughty kitty on your hands. While Incineroar is by no means an OU or Uber-tier Pokémon, he can still do your competitive and single-player team wonders!
Incineroar was lucky enough to receive a coveted spot in the roster of Super Smash Brothers Ultimate. There, its performance is less than impressive compared to its main series counterpart. Incineroar is placed firmly in the low-tier of Super Smash Brothers Ultimate due to his slow speed, and difficult kill confirms. If you enjoy clawing your way to the top with somewhat of a challenge, Incineroar is the cat to help you do it!
Solgaleo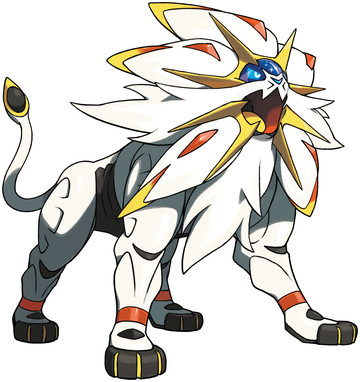 Number: #791
Species: "Sunne Pokémon"
Type: Psychic/Steel
Generation: VII
How to Catch: Overworld, Evolve Cosmoem, Gift
Solgaleo is the Legendary Pokémon of Pokémon Sun. Because of its Legendary status, it sits comfortably in the Uber-tier of Pokémon due to its helpful typing, excellent move pool, and strong base stats.
Solgaleo is a powerful ally and a cat Pokémon that would make a great addition to any casual or competitive player's team!
Dusk Mane Necrozma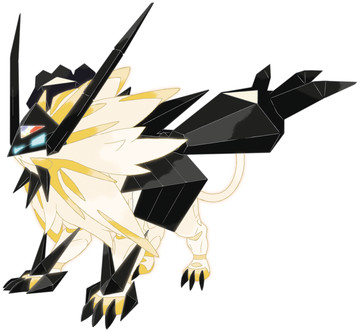 Number: #800
Species: "Prism Pokémon"
Type: Psychic/Steel
Generation: VII
How to Catch: Other (Fuse Necrozma with Solgaleo using an N-Solarizer)
Dusk Mane Necrozma is a cat Pokémon obtained by combining one's Necrozma and Solgaleo using a unique item. Because it is the product of two Legendary Pokémon, you should already know that Dusk Mane Necrozma is in Uber tier.
Furthermore, Dusk Mane Necrozma's excellent typing benefits from a slew of advantageous matchups and immunities!
Zeraora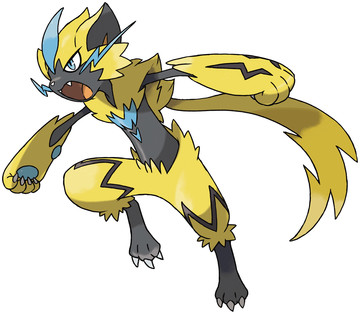 Number: #807
Species: "Thunderclap Pokémon"
Type: Electric
Generation: VII
How to Catch: Event
Zeraora is an uber-tier cat Pokémon only available through officially Nintendo sanctioned events. Zeraora utilizes its lightning-fast speed to dish out heavy hits with physical or special attacks. Moreover, Zeraora boasts one of the most amazing shinies in all of Pokémon and was available for a brief time as a free download in Pokémon Sword and Shield.
Additionally, Zeraora also has access to a unique move known as Plasma Fists which deals heavy damage and changes Normal-type moves into Electric-type moves!
Perrserker
Number: #863
Species: "Viking Pokémon"
Type: Steel
Generation: VIII
How to Catch: Wild, Evolve Galarian Meowth
Finally, to wrap up our list, let's end things with the bushy Viking cat Pokémon Perrserker. While it would be nice to end this list on a bang with a powerful cat Pokémon like Zeraora, we must discuss Perrseker and its underwhelming abilities.
It's nice to see Meowth receiving even more love considering its impact in the Pokémon anime, but Perrserker is unviable in competitive and casual play.
Final Thoughts
Cat Pokémon are abundant in the Pokémon Universe, and, whether you're looking for a cute cat Pokémon as a pet or a strong cat Pokémon for battle, there is undoubtedly a cat Pokémon out there for you! Which cat Pokémon is your favorite? Are there any cat Pokémon you will use any chance you get? Let us know!
While we focused heavily on the competitive aspect of Pokémon in this list, we welcome those who may have stumbled across our list by simply searching "cat Pokémon Go." Hopefully, we've given you a deeper insight into the cat Pokémon you love so much!
In conclusion, check out our list of every cat Pokémon and try out a new partner for your next playthrough!
All Pokémon images taken from Pokémon DB
---
If you're a pokemon buff you have to see the pokemon type chart, all legendary pokemon, and all pokemon starters.